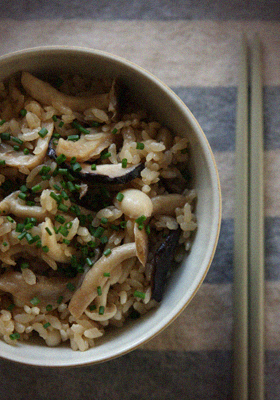 Mushroom season.
This is a popular Japanese seasonal dish made of rice cooked with a variety of wild mushrooms and dashi stock.
Enjoy the aroma and flavour of autumn.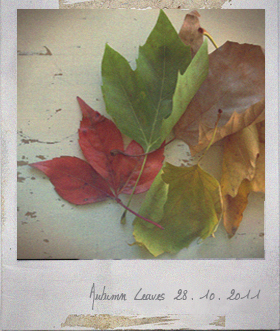 ——————————
— Mushroom Rice (serves 4) —
450g Japanese rice
250g mixed mushrooms (shiitake mushrooms, shimeji mushrooms, oyster mushrooms)
450ml dashi stock (see how to make dashi stock)
3 tablespoons rice wine (sake)
3 tablespoons light soy sauce
1 tablespoon butter
Some chives, finely chopped
——————————
Wash the rice in a strainer under running water. Set aside.
Trim off the bottom of the mushroom stems. Broil the mushrooms until lightly browned. Make the mushrooms into bite sized pieces (slice the shiitake mushrooms, separate the shimeji mushrooms and tear the oyster mushrooms).
Place the rice wine and light soy sauce in a bowl and toss with the bite sized mushrooms.
Place the washed rice and dashi stock in a heavy sauce pan.
Pour the mushrooms and sauce in a bowl in a pan and put the butter on the top. Cover with tight-fitting lid.
Bring to the boil over hight heat and let cook for 2 minutes.
Reduce the heat to the lowest and simmer (always cover the pan with a lid) for 15 minutes.
Remove from the heat, still covered, and leave the pan for another 10 minutes.
Open the rid, mix gently with a wooden spoon. Garnish with finely chopped chives.