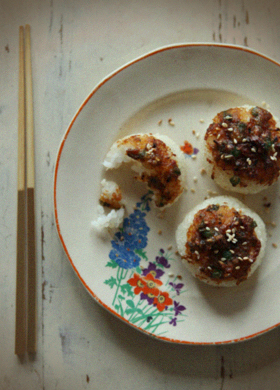 In Japan, children are taught not to leave even one grain of rice in your rice bowl, because there are seven rice gods residing in every single grain of rice, so we shouldn't waste them.
This custom to 'finish all the food served for you' contains expression of gratitude for food and appreciate farmers who produced the food.
Anyway, I calculated how many rice gods in this rice ball when I was making them today.
100g of rice = about 4300 grains of rice.
I used 300g of rice for 8 small rice balls.
So, 11287 rice gods residing in each rice ball.
Mmm… they must feel so cramped.
——————————
— Grilled Rice Balls with Spicy Miso (8 rice balls) —
300g rice (Japanese short grain white rice, or sushi rice)
420ml water
Some salt
2 tablespoons spring onion, finely chopped
2 tablespoons miso paste (light brown coloured miso is preferred)
*please see this link for more information about miso
1 tablespoon mayonnaise
1 teaspoon sugar
1/4 teaspoon chilli powder
Some sesame oil for frying
1/2 tablespoon toasted sesame seeds
——————————
Rinse the rice in a clod water, changing the water several times until the water runs almost clear.
Drain the washed rice in a sieve and place in a saucepan.
Pour 420ml water in the pan and cover with tight-fitting rid.
Bring to the boil over high heat and let cook for 2 minute. Reduce the heat to the lowest and simmer (always cover the pan with a rid) 15 minute. Remove from the heat, still covered, and leave the pan for another 10 minutes.
Place the chopped spring onion, miso paste, mayonnaise, sugar and chilli powder in a small bowl and mix together. Set aside.
Divide the cooked rice into 8 equal portions.
Wet the palms of your hands and then lightly sprinkle them with salt.
Form the rice into circle shape.
Heat a frying-pan on medium heat with a little bit of sesame oil. Fry each side of the rice balls until lightly golden.
Transfer the rice balls onto the baking tray. Spread the miso mixture on the rice balls.
Preheat broiler, position the backing tray approximately 6 inches away from top heating element. Broil about 5 minutes, until the miso mixture starts to brown.
Sprinkle with toasted sesame seeds.