I love this Sicilian style spaghetti.
It's quite unusual that sprinkle breadcrumbs over pasta. But the crispy toasted breadcrumbs add a nice crunchy texture and a nice flavour contrast to the anchovy sauce.
I wish I was at the beach right now, somewhere like Sicily, even though I swim like a rock.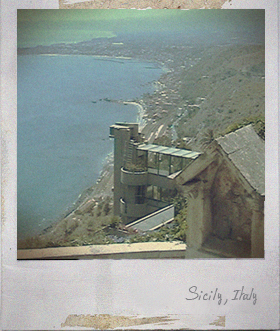 ——————————
— Pasta with Anchovies and Breadcrumbs (serves 2) —
200g spaghetti
3 tablespoons olive oil
1 garlic clove, finely chopped
10 anchovy fillets in olive oil, drained and chopped
1 teaspoon red cilli flakes
*****
— for breadcrumbs mixture —
40g breadcrumbs
2 tablespoons olive oil
2 garlic cloves
1 tablespoon grated parmesan cheese
1 tablespoon parsley, chopped
——————————
To make breadcrumbs: peel and lightly crush the garlic cloves, place into a frying-pan with 2 tablespoons of olive oil over medium heat. Fry the garlic until golden, then remove and discard.
Add the breadcrumbs in the frying-pan and stir-fry over medium heat until crisp and golden. Set aside.
Transfer the breadcrumbs to a plate, leave to cool. Add the parmesan cheese and chopped parsley, mix everything well. Set aside.
*****
To make anchovy sauce: Heat the 3 tablespoons of olive oil in a large frying-pan over low heat, add the chopped anchovies, breaking them up a wooden spoon until they dissolve into the oil. Add the chopped garlic and chilli flakes, stir-fry everything until the garlic became golden. Set aside.
*****
Add the spaghetti to lightly salted boiling water, cook until al dente (follow the package directions). Drain and return to the pan (keep 2 tablespoons of pasta water).
Add the anchovy sauce and 2 tablespoons of pasta water in the pan, toss well. Add half amount of the breadcrumbs and mix.
Transfer to serving plates, sprinkle with the remaining breadcrumbs.