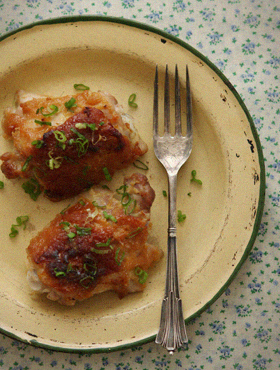 Sleepy Sunday. I love being lazy today.
This is a very easy but delicious chicken dish.
The combination of miso and honey makes an appetizing sweet & savoury flavour.
I'll have another nap after the meal. Zzz…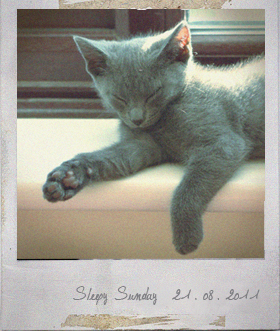 ——————————
— Miso & Honey Roast Chicken (serves 2) —
4 chicken thighs (about 500g)
2 tablespoons miso paste (medium-coloured)
1 tablespoon honey
1 tablespoon sake (rice wine)
1/2 tablespoon sesame oil
Some spring onion, finely sliced
——————————
Preheat the oven to 350F/180C.
Mix the miso, sake and honey in a small bowl. Set aside.
Trim the excess skin and fat from the chicken thighs (leave just enough skin to cover the meat). Lightly sprinkle with salt and pepper and coat the chicken with the sesame oil.
Place the chicken in a shallow roasting tin in a single layer. Bake for about 30 minutes.
Coat the miso mixture on top side of the chicken. Place under a grill and cook for 5 minutes until the miso paste became nicely brown.
Garnish with finely sliced spring onion.