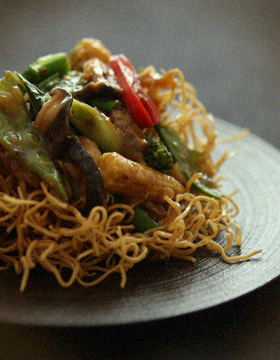 Thick black bean sauce goes perfectly well with crispy noodles.
My body is happy with a lot of green vegetables today.
This recipe is suitable for vegans.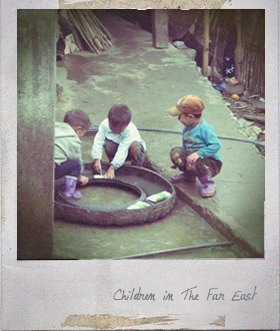 ——————————
— Vegetables with Black Bean Sauce on Crispy Noodles (serves 2) —
160g thin dried chinese noodles
1 tablespoon ginger, finely chopped
1 clove garlic, finely chopped
4 shiitake mushrooms
300g Oriental stir fry vegetables (such as baby corn, bok choy, spring onion, tenderstem broccoli,  mangetout, chilli etc.)
1 tablespoon vegetable oil
1 tablespoons sesame oil
1 & 1/2 tablespoon black bean sauce
300ml vegetable stock soup
1 & 1/2 tablespoon cornflour (mixed with 3 tablespoons water)
Vegetable oil for deep-frying
——————————
Cook the rice noodles (follow the package directions), drain and rinse under cold water, and drain well again. Set aside.
Heat the deep-frying oil to 360F. Devide the noodles into 2 portion and deep-fry a portion at a time until they became crispy. Place them on kichen paper to remove excess oil.
*****
— how to make vegetable with black bean sauce —
Cut the vegetables into bite-size pieces.
Heat the vegetable oil in a frying-pan over medium heat, add the vegetables, ginger and garlic, stir-fry about for 3 minutes.
Add the black bean sauce and in the frying-pan and stir-fry for 1 minute. Pour over the vegetable stock soup and bling to boil.
Add the corn flour (mixed with water) to thicken, then add the sesame oil.
*****
Serve fried noodles on plates and pour the sauce over.